Cleaning Your Jewelry – Get Ready To Sparkle This Summer
Cleaning Your Jewellery – Get Ready To Sparkle This Summer
By Lori Murray – Wishart
A Diamond Ring Before Cleaning, Buffing and Polishing
After a fun day at the beach…salt water, sand and suntan lotion can build up and cause your diamond ring to look a little dull and to lack the luster it used to have. While you're treating yourself to a vacation, why not treat the jewellery you cherish to a cleaning and inspection!
While you're visiting the shops around Queen Elizabeth Park in Newcastle, drop in to L&A Goldsmith where all jewellery cleanings are done in-house by the owner and expert goldsmith Lori Murray Wishart, and can be done within a day!
The cleaning process begins with a bath in an ultrasonic machine using a special cleaning solution. The vibration of the liquid loosens all the dirt and grime. The ring is then removed and rinsed with fresh water and steamed. Afterwards the goldsmith does a thorough inspection of the claws, making sure they are in good condition and all diamonds are secure. Any issues will be noted and the owner contacted to give them a price if a repair is needed.
Now, it's time to buff and polish. Using a buff wheel and a compound specific to the type of metal (white gold, yellow gold, platinum etc.) The ring is buffed to a high polish both inside and out! Then, it's back to the ultrasonic machine to remove all the excess compound. We're almost done now…just another rinse and steam.
If the customer would like a new Rhodium plating it would be done at this point. This will give the ring a white mirror-like finish that will also resist scratches.
It is recommended that your rings be thoroughly cleaned and checked every 6 months.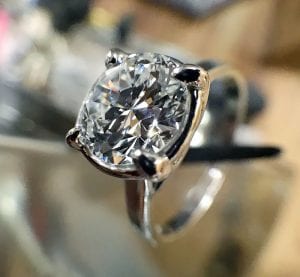 A Diamond Ring After Cleaning, Buffing and Polishing
Get ready to sparkle and shine for a night on the town, your ring is complete and looks just like new!